More done with less
10 Years And Above Non-Strata Residential: Gold: Jade Hills
As a 338-acre low density township that consists of five lakes, more than 70 acres of green spaces and a clubhouse offering an array of facilities, taking care of Jade Hills is definitely not a piece of cake for any property manager.
This township in Kajang, Selangor developed by Gamuda Land and managed by Gamuda Land Property Services Sdn Bhd is 11 years old but strolling along its pathways and enjoying the breeze by the lakes here, one wouldn't notice its age as the roads, walkways, parks and even the trees look fresh and new.
Apart from the commercial districts, the orient-inspired township houses 12 residential precincts containing terraced houses, link bungalows and bungalows. To date, seven precincts with 517 homes have been developed of which 92% have been sold and 71% have been occupied.
With its goal to create an amicable, secure and tranquil resort-style neighbourhood, the 12-man property management team has to ensure all facilities and communal spaces are well taken care of. It also has to keep a close eye on security. Their efforts are definitely impressive and at EdgeProp Malaysia's Best Managed Property Awards 2019 recently, Jade Hills achieved Gold in the 10 years and above non-strata residential category.
The win can be attributed to the developer's thoughtful design which has kept sustainable maintenance in mind from the very start of its planning, and the continuous effort by the property management team, says Gamuda Land Property Services township and facilities management general manager Victor Tay.
Lessons-learnt database
In its pursuit of excellence, Gamuda Land knows that it has to constantly strive to be better. Hence it has created a "lessons learnt" database which captures post-mortem data from its various developments including on-product design, material selection, contractor evaluation, purchasers' feedback and operational issues.
The data is reviewed on a half-yearly basis and shared among all business units within the group to improve on planning, design and the future maintenance of their township developments.
"Take landscaping and planting of trees as an example, if these are not done right from the beginning, the trees would damage roads or drainage or even encroach into the houses once they become mature.
"But in Jade Hills, we learnt from our experience in our other developments such a Kota Kemuning, Valencia and Horizon Hills, that we need to carefully select plants and trees that require low maintenance," Tay explains.
This has not only ensured the sustainability of the greenery but will also make it easier for the local council to manage when the public spaces and infrastructure are handed over to them, he adds.
Furthermore, in order to keep the cost manageable and to minimise workload considering that more new precincts will be coming up in future,  Gamuda Land Property Services has introduced mechanical trimmers for the maintenance of plants.
"In Jade Hills, we have a vast landscape area which requires a lot of manpower to maintain. So one of the ways that we try to make it more sustainable is through mechanisation. This is also part of our cost optimisation initiatives," he says, citing trimming of shrubs as an example — the task often requires two persons over a week to complete but with the trimmers, it only requires one person to do the work in half the time.
How well the township is being managed is evident in the capital appreciation of the houses there. According to Gamuda Land, a terraced home in Phase 3B was transacted at RM1.17 million in September 2015, a 53% increase from the developer price of RM776,000 in 2011.
Tay says the team plans to leverage more on technology going forward, especially mobile applications and security enhancement technologies.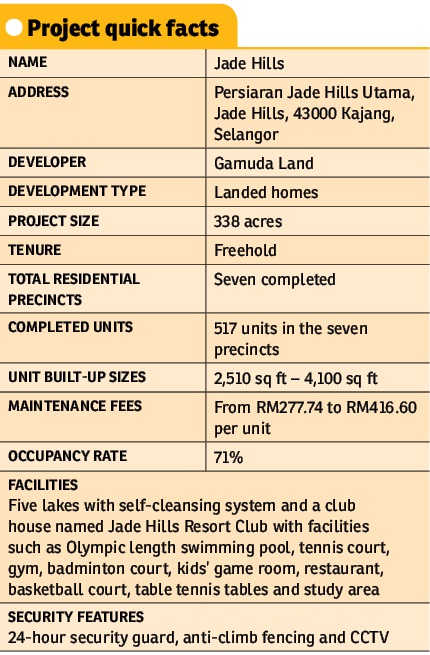 Gamuda Land Property Services has already introduced the Gamuda Land Residence Management App to enhance security without inconveniencing residents.
"The mobile app allows residents to pre-register their visitors and this will reduce the amount of time for security checks to less than two minutes," he elaborates.
He says the next security enhancement that the team is planning would be Perimeter Intrusion Detection Systems (PIDS) and electric fencing in vulnerable areas of the township.
"To remain sustainable, we must be able to do more with less — consistently," he says.